We are beginning the New Year with an essay contest for one pair of e Spira Women's Walking Shoes, size 10.5, regular width, retail priced at $129.99!
The contest lasts until 31 January 2009 wherein the winner of this contest gets one free pair of e Spira Women's White Walking Shoes. If you live within the contiguous continental United States and win this contest, this also includes free shipping.
Your essay will consist of your post of 500 words or less. You will answer two questions:
What is your biggest challenge to getting fit and staying healthy?
How is your life better when you're fit and healthy?
There are all kinds of online word counters to help you make sure your entry is 500 words or less. Let me explain further how the judging will take place, but for now, here's a little information about these e Spira Shoes:
Spira Classic Leather Walking Shoe Womens, white
The women's Spira® Classic Leather Walking shoe boasts patented WaveSpring™ technology in both the heel and forefoot providing maximum cushioning and energy return ideal for serious or casual walkers or people who are on the feet all day. The full-grain leather upper offers comfort and durability and the high-abrasion carbon rubber outsole delivers durability and is wet/dry slip-resistant as well as stamped "SR Rated" for safety.
Named "best update of the year" by Runner's World magazine, these shoes have shock-absorbing springs in the soles that relieve the stress and fatigue of running, walking, or standing better than any shoe available.
Tests performed at Michigan State University for Runner's World discovered that the patented springs actually returned up to 96% of the energy from each step that would otherwise be lost to the ground. The downward force deflected and dispersed during each impact is then recycled to the wearer as propulsive energy, further reducing the strain on the feet, even for casual walkers or those who stand on their feet most of the workday.
Unlike the compressed foams and gels used for cushioning on other athletic shoes, these springs will never break down or degrade. The shoes have a full-grain leather upper, with a one-piece outsole of abrasion-resistant carbon rubber. Each shoe contains one spring in the heel and one in the forefoot.
Product Features
Patented WaveSpring™ technology in both the heel and forefoot provides maximum cushioning and energy return
Full-grain leather upper offers comfort and durability
1-piece outsole is made of high-abrasion carbon rubber for durability and is wet/dry slip-resistant as well as stamped "SR Rated" for safety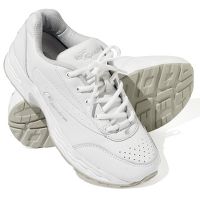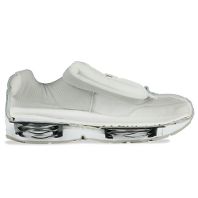 REGULAR RETAIL PRICE:
$129.99
The reason this contest is being held is that I want to spread the word that, although BioenergeticSpectrum.com is a very esoteric website, is that the end result is all about your health, healing, and fitness. Therefore it's important that we understand the challenges you face and your opinion about health and fitness as it applies to your life.
The essays need to be in english. In fact, I'm a stickler for english and grammar. Show us how ambitious you are about health and fitness by being ambitious with your writing skills on the the subject. Only the people who are ambitious about this essay contest have the potential to win!
As the essays build up at this post, I'm going to be scanning them on a regular basis. I will pick the most original, heartfelt, creative posts at the end of January, then have a voting system in place where everyone can vote for the best post. The Winner gets a pair of shoes that will make her feel like she's walking on a cloud.
If the winner lives outside of the contiguous, continental US, he/she will have to pay for shipping charges. Considering the retail price of these shoes, the cost is minimal.
You should register at Bioenergetic Spectrum Science Circle and keep track of the feed, so you can keep track of what's happening at this blog concerning the contest and so I can contact you when you win! The rules of this contest are subject to change, but remember: The most creative, heartfelt, original essay on challenges and accomplishments WINS.
Best of Luck.
Healing Thoughts, HealingMindN
Randolph
P.S. This Post needs to get at least 10 entries from 10 different people by the end of this month or the contest is null and void. Thank you for your understanding.
Spira is perfect for Nurses!!, December 12, 2008

| | |
| --- | --- |
| By | A. Komer (spring hill, fl United States) |

I love these shoes! perfect for being on your feet for 12+ hours. The inner springs helped me tremendously!
Spira Classic, January 11, 2009

| | |
| --- | --- |
| By | H2O Jet (Charlotte, NC United States) |

I have arthritis in my feet and this is the most comfortable of walking shoes.
Great spring for walking and exercising, January 1, 2009

I bought two pairs. One for my mother and one for myself. I actually can't believe how good they feel. The spring coils actually work – I can walk and workout for longer periods of time without my feet hurting. I highly recommend.